As seen in the Daily Pilot
Thanks largely to the popularity of television shows centered around food and cooking, we have in recent years elevated culinary pursuits to a new level in our culture.
American palates, once mocked for appreciating little beyond burgers and hot dogs, are now diverse and adventurous, and we've come to embrace the act of cooking as so much more than just slapping food on a plate. We see it as an expression of love, as the ultimate melding of art and science, and as a glorious unifier of people from all walks of life.
As Food Network TV host Guy Fieri said: "Cooking is all about people. Food is maybe the only universal thing that really has the power to bring everyone together. No matter what culture, everywhere around the world, people get together to eat."
A mediocre but enthusiastic cook, I am on board with such thinking, my zeal even prompting me to participate in an all-day cooking class on a recent trip to Italy. My first attempt at replicating the Italian menu shortly after returning home resulted in pasta as chewy and hard to swallow as a wad of Double Bubble — but I remain undaunted.
So when I saw that the Merage Jewish Community Center in Irvine, of which I am a member, planned to open a cooking school, I could barely contain my excitement. Then I learned that it would be called the Blaze Bernstein School of Culinary Arts, and my heart lurched a little at how perfectly the new venture's name fit.
Bernstein, you may recall, was the University of Pennsylvania student who was killed while home in Orange County in January 2018. A former high school classmate from Newport Beach has been charged with the killing, which prosecutors allege was a hate crime — Bernstein was gay — and he is awaiting trial.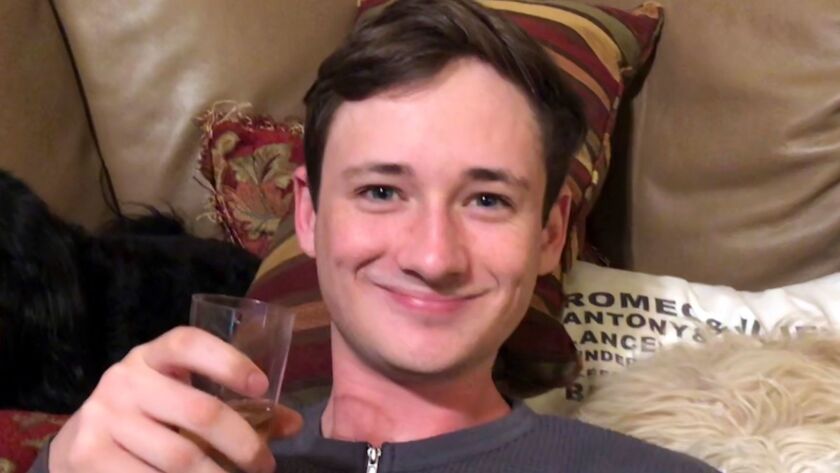 In a remarkable development, Bernstein's parents, Gideon Bernstein and Jeanne Pepper Bernstein, have channeled their anguish over their son's death into a movement based on love and kindness. The BlazeItForward non-profit organization they founded, described as an effort "to make the world a better place with one intentional kind act at a time," has mushroomed into an international cause with tens of thousands of followers.
I have been astounded by the Bernsteins' resilience and their resolute intention to honor their son's memory by focusing on spreading goodness in the world. And one of the ways that Blaze demonstrated his love for family and friends was through his passion for cooking.
From a very young age, Blaze loved to cook. Although he intended to pursue a career in medicine, he remained committed to his culinary adventures as he grew older, eventually becoming an accomplished gourmet. Shortly before his death he had been elected managing editor of Penn Appetite, the university's food magazine.
He routinely dazzled loved ones with his creations. He relished baking in particular; the last thing he made was a plum upside-down cake on New Year's Eve.
"My freezer still has food he made," Pepper Bernstein told me. "I can't throw it out."
Planning for the cooking school was already underway when the Bernsteins got involved and lent their support to the project.
"As I saw they were building the kitchen I said, 'I'd love to see this with Blaze's name associated with it,'" she said.
"We're always trying to decide what's next for the JCC," said Julie Holdaway, the center's assistant executive director and vice president.
Adding a cooking school "was kind of a no brainer," as food is so integral to Jewish culture, and is viewed as a celebration of community and family, she said.
Ralph Stern, who together with his large extended family has been a major donor to the JCC since its inception, committed early on to supporting the cooking school, and the facility itself is named the Stern Family Teaching Kitchen. Other key members with experience in construction and management also contributed to the effort.
When looking for a chef to lead the new venture, the JCC again was able to pull from the talent within its community.
Chef Liron Herzog's extensive resume includes training in Israel and at the Culinary Institute of America, and a recent stint working at Disney's Grand Californian Hotel.
Herzog, whose son attends preschool at the JCC, is clearly enjoying her new gig.
"It's like a family here," she said.
For the kitchen's grand opening she made several plum cakes using Blaze's recipe.
The morning I visited she had just finished with some preschoolers, who had learned to make muffins — very tasty, I might add — and she was busy with preparations for an ambitious schedule of classes for kids, teens and adults.
Not to be deterred by my epic failure at fresh pasta, I'm planning to sign up for a pasta-making class. And when I do, I'll think of a young man I never knew, but whose spirit lives on in a legacy of love and sharing.
Jewish culture emphasizes remembrance — of a shared history, and of people no longer with us, Pepper Bernstein said. When she thinks of Blaze, it's to "remember what you gave to the community, what you brought to the world."
And part of what he gave, and will continue to give through the culinary school that carries his name, was an understanding of the transformative power of food.